"Broadway Ray" & Elton John at Press Event (4/22/08) for the eagerly anticipated new Broadway musical 'Billy Elliot'
Are you looking for a great gift idea for a Birthday, Anniversary or another special occasion? How about tickets and transportation to a Broadway show? Gift Certificates are always available and we gladly take Visa or Mastercard as payment.
This site offers you the opportunity to learn more about Broadway Ray founded in 2001. Join us as we prepare to go on the road and celebrate our 22nd Season as Monmouth & Ocean Counties Premier Charter Bus Tour Company to Broadway!
To learn more about us, click any item on our menu. If you have comments or questions, let us know.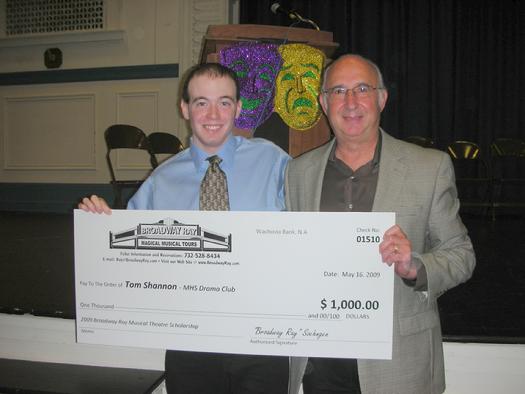 Manasquan High School senior and drama club member Tom Shannon [left], of Avon, was recently awarded the 2009 Broadway Ray Musical Theatre Scholarship in the amount of $1,000, at an awards ceremony held in the Jack Nicholson Theatre at Manasquan High School. Broadway Ray President Ray Soehngen presented Tom with the award.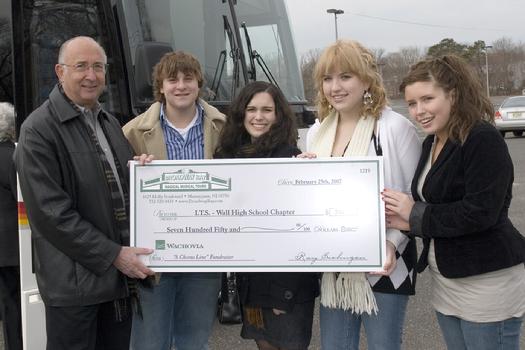 "Broadway Ray" Soehngen with Wall High School ITS members (left to right), Shane Fried, Aimee Scofield, Lianna Bass and Martina Gordon (Treasurer, WHS ITS) at the Feb. 25th bus trip to A Chorus Line at the Schoenfeld Theatre, NYC.
On February 25th, 2007 Broadway Ray, members of the community, and a handful of Wall High School students took a bus ride to NYC to see A Chorus Line at the Schoenfeld Theatre.

Proceeds from the trip were donated to the International Thespian Society at Wall High School.
The International Thespian Society is an honorary organization for high-school students across America, Canada, and abroad. The mission of ITS is to honor student excellence in the theatre arts. It is a division of the Educational Theatre Association.
These funds have been raised to increase participation of ITS members at Wall High School in the many local, regional, and national ITS festivals.